If your outdated kitchen isn't cutting it anymore, it's time to shake up the design with our custom kitchen floors.
To remodel this space, the floor covering may need to be changed if it's not matching the current cabinets and décor.
How to Order Custom Kitchen Floors
Ability Wood Flooring is a go-to source for locals who are interested in ordering custom kitchen floors in College Park. Whatever your flooring needs, Ability Wood Flooring has you covered.
The Types of Custom Kitchen Floors Available for College Park 
Here are some of the most popular floor coverings at Ability Wood Flooring:
Kitchen Hardwood Flooring College Park – Design a rustic and charming kitchen space using hardwood floors. Another alternative is engineered hardwood, which holds up better to extreme heat and moisture compared to real hardwood flooring. 
Tile Flooring College Park – Tiles are a smart choice for the kitchen area because they're easy to clean and maintain.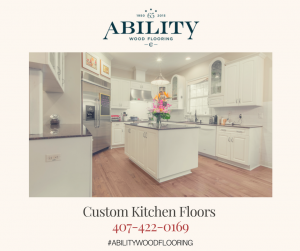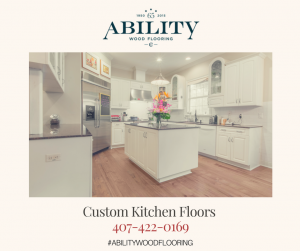 Smart doesn't have to mean boring either.
At Ability Wood Flooring, you have the freedom to request custom tile coverings that mirror your style. We can even engineer tiles that look like real wood flooring – and with the added bonus of savings.
Ask us for a cost comparison between tile wood-look-alikes and real kitchen hardwood flooring in College Park.
Stone Flooring College Park – Transform your kitchen into an exotic beauty with natural stone flooring. Ability Wood Flooring has a large selection of stone floors to make your dream kitchen a reality. These include travertine, limestone, slate, mosaic, Nadeau, and marble stone floors.
Kitchen Flooring Ideas to Steal
To provide new or returning customers with inspiration for floor coverings to choose for the kitchen, we've created an online gallery for your review. There, you will find the end result of past projects, including kitchen hardwood flooring in College Park that is practical and features an air of sophistication, for example.
You may also come across white traditional porcelain tiles that offer a timeless look.
Whether you have an open concept kitchen or a galley layout, you can find the perfect floor covering to complement any design at our showroom in Orlando.
Measuring Your Needs
Our flooring experts will gladly go over the various options available based on your personal needs and budget. Next, we'll cook up the perfect flooring solution for you to set inside your dream kitchen.
There is no need to wait weeks or months to get custom floor coverings installed. We have more than 70 years of experience in the industry and have a solid network of vendors in place to get you a custom floor solution in less time.
An All-in-One Solution
Our in-house flooring technicians are also trained to install a range of flooring, including wood, tile, and stones.
Ability Wood Flooring is, therefore, a full-service flooring boutique taking care of all your flooring sales, delivery, and installation needs.
We Make Any Dream Possible
Entertain large family gatherings or intimate get-togethers in style with traditional to modern flooring. To schedule a personalized consultation for custom kitchen floors in College Park,
call 407-422-0169.