Ability Wood Flooring is an all-American company that's been in business for more than 70 years – and is still thriving today. A family-owned-and-operated business manned by three generations under the same roof, we work hand-in-hand to showcase the outcome of hard work and continuous service excellence.
Our best kept secret to being in business this long is adapting to the changing climate of newer technologies and products in the marketplace. With this approach, we've continuously delivered the most in-demand flooring solutions to homeowners and businesses in Lake Nona.
We're always one step ahead of groundbreaking innovations, just like custom flooring Lake Nona that can be manufactured in any material or design you want – within reason.
From understated elegance to fun and funky options, we recreate floors in styles that match your personality. Our wood floor installation company in Lake Nona offers: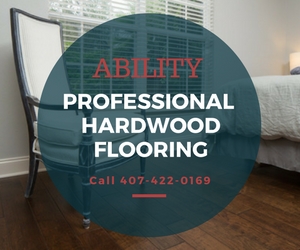 The Best Local Flooring Designer in Lake Nona Florida
If you have an idea of what you want your floors to look like, we can make it happen at Ability Flooring. We recommend stopping by our flooring boutique when you have the time to do a quick consult. Alternatively, you can email or text us your sketches and we'll do a follow-up with you to discuss pricing and other details.
Custom Logos and Crests
Perfect for universities, hospitals, and other places of business, put your brand in the front and center of entryway floors. Ability Wood Flooring can recreate insignias on all types of flooring, including tiles, hardwoods, and more.
Who knew an independently owned flooring boutique in the area had so many options?
Now you do!
Add an Element of Surprise
Do you want to stick with traditional tile and stone flooring – but also want to interject an element of surprise in the design?
Consult our in-house flooring designer at Ability Wood Flooring for custom floors that turn heads.
Make a Statement
If you're homeowner or businessperson with discerning taste, head to Ability Wood Flooring for one-of-a-kind flooring solutions that make a statement. Our wood floor installation company in Lake Nona stencil in all the details per your request, and always deliver as expected and on time. To learn more,