For more than 70 years, Ability Wood Flooring has been stirring the pot in the flooring industry by putting a fresh spin on old classics. In addition to providing a huge supply of pre-finished flooring, we fulfill orders for custom kitchen floors in Bay Hill, FL too.
With us, there's no need to settle for off-the-shelf floor coverings. We design and deliver made-to-order flooring, including hardwoods, tiles, stones, and more. Tell us your cover story and we'll publish the final blueprint.
Get: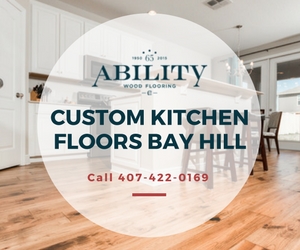 Custom Tile Kitchen Floors in Bay Hill

– a clean and practical option for every home chef.

Custom Kitchen Hardwood Flooring Bay Hill

– full of charm and sophistication, this classic choice never disappoints.

Custom Stone Kitchen Floors in Bay Hill

– Rustic and durable, stone floors have stood the test of time.
No Half-Baked Ideas
From wood tile-look-alikes that help you enjoy a dream kitchen on a budget to engineered hardwoods that are more stable than solid wood – choose your flavor of kitchen hardwood flooring in Bay Hill – in practically any style, texture, material, or hue.
Ability Wood Flooring started low and slow and we gradually built up our chops over time. Going on as a third-generation family business, at this point you could say we're:
Seasoned to Perfection – Custom Kitchen Floors in Bay Hill
Our flooring technicians have the answers you need and more. In addition to supplying flooring materials, including kitchen hardwood flooring in Bay Hill, we also deliver and install floor coverings.
We keep things fresh by staying glued to the latest technologies, tools, and techniques in the marketplace to help save our customers time, frustrations, and money when remodeling the kitchen or building from scratch.
No Cut and Dried Floors Here
Turn up the heat on head-turning custom kitchen floors that are a feast for the eyes – and senses. Ability Wood Flooring features luxurious flooring that elevates the charm and sophistication of both commercial and residential properties throughout Bay Hill, Florida.
Go Ahead and Grill Us
Ask us any questions that come to mind regarding our products or services, and we'll provide you with credible answers on the spot.
When it comes to making a confident buying decision with no buyer's remorse, it all boils down to who you choose to work with.
Head to Ability Wood Flooring, based in Orlando, Florida, and servicing clients in Bay Hill and the surrounding areas.
Hungry for More?
Not sure what you're looking for? Stop by our flooring boutique in Bay Hill, FL and our flooring guides will be happy to discuss a few ideas.
We also have a seasoned in-house Wood Floor designer who can take things up a notch, in terms of style and charm. We've went the whole nine yards and done the groundwork to ensure that each time you walk through our doors, you're 100% satisfied with our services.