At Ability Wood Flooring, we sink our teeth into providing Longwood, Florida residents with the best custom flooring options available.
From commercial-sized kitchens to gourmet home nooks, our flooring boutique is equipped with the tools and knowledge to bring you stunning custom floors – for every square inch of your building.
What Are Custom Kitchen Floors Longwood, Florida?
Most flooring contractors provide a wide selection of retail or off-the-shelf coverings.
But why settle for something that everyone has?
Ability Wood Flooring fulfils special requests for unique cuts, textures – and designs of flooring.  
Personalized Flooring Has Arrived  
A Range of Custom Kitchen Floors Longwood, Florida. Pick and choose from:

Tile Custom Kitchen Floors Longwood, Florida –

Top off tile floors with unique or trendy designs, such as hardwood or stone replicas, for instance. These budget-friendly custom floors are ideal for the kitchen, as they wipe clean; resist spills and stains; and withstand heavy foot traffic.
Hardwood Custom Kitchen Floors Longwood, Florida –

A fresh crop of kitchen hardwood flooring Longwood, Florida is in the air. From solid to engineered hardwood flooring for the kitchen, feel free to add custom textures, colors, or special wood plank cuts.
Stone Custom Kitchen Floors Longwood, Florida – Cool to the touch and naturally beautiful, kitchen stone flooring serves "eye candy" for the ages. Ability Wood Flooring offers floor customization services that are polished to perfection. We detail (cut, seal, etc.) marble, limestone, granite, travertine, and more – as you request.
Indulge in Lasting Style
Quick Shopping Guide for Kitchen Flooring Longwood, Florida
Our team compiled a cheat sheet to help you select the best custom flooring for kitchens. For most of our customers, the kitchen is a hub of activity at any given time of day. If you have a large family or pets at home, consider selecting custom floors that: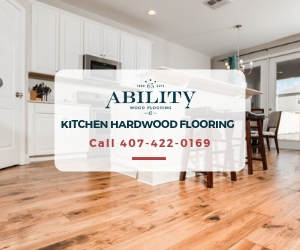 Resist Water, Spills, and Stains

Hold Up to Heavy Foot Traffic

Do Not Crack with Dropped Dishes or Utensils
Our Recipe for Excellence
At Ability Wood Flooring, floors aren't just a commodity. These products are what makes us tick.
Based in Orlando Florida for more than 70 years and serving homes and businesses in Longwood, Florida, it's here in our showroom that you'll witness a real pep in our step.
When you see us, we gladly discuss the latest and greatest compilation of flooring hits, as well as how to make tile, hardwood, and stone your own. We pair our longtime understanding of flooring systems with commercial-grade machinery to deliver the best custom kitchen floors.
Top Off Floors with New Designs  
How to Order Custom Kitchen Floors Longwood, Florida
Ability Wood Flooring aims to simplify the process of ordering custom-made kitchen flooring in Longwood.
Call (407) 422-0169
Tell Us Your Idea
The Icing on the Cake. Upgrade your kitchen with jaw-dropping custom floors that are sourced, delivered, and installed by Ability Wood Flooring.
We are a full-service flooring boutique serving all of Longwood, Florida and the surrounding areas.
To jumpstart your order for custom kitchen floors in Longwood Florida.
Call (407) 422-0169