The kitchen floors are one of the most heavily used spaces at home.
It's the place we turn to for good food and good conversations with the people we love.
Ability Wood Flooring is a firm believer that an ideal starting point for completing a kitchen makeover is at the base – or floors.
What's Brewing in Our Kitchen Floors Boutique?
Ability Wood Flooring has a load of custom kitchen floor options in Winter Park that can be filtered by design, material, or pricing.
Let Us Take the Stress Off Your Plate
Planning the design and installation of kitchen floors can be challenging. Ability Wood Flooring can help. Here are some of the top kitchen flooring options in store: 
1. Kitchen Hardwood Flooring Winter Park
Many shoppers second guess the practicality of installing hardwood floors in the kitchen area. In between the messy sink cleanups or the ever elusive desire to not spill the spaghetti sauce, hardwood floors may be the last thing on your mind when shopping for kitchen flooring. 
Yet if you scroll through most high-end design blogs, the majority showcase hardwood floors in the kitchen.
Ability Wood Flooring would like to spill a little secret: the recipe for resilient wood flooring that holds up to spills, stains, moisture, and humidity is engineered hardwood flooring.
Engineered kitchen hardwood flooring is manufactured using multiple layers and features a highly resistant top layer at the surface. 
2. Kitchen Tile Flooring Winter Park
From white and contemporary kitchen tile flooring to dark wood-look-alikes, we have a variety of tile floors in stock that can be custom printed according to your style.
Not only is tile flooring practical and stain-resistant, these flooring types offer a stark and elegant contrast to other materials being used in modern kitchens.
Visualize the luxury look and feel of rich and dark kitchen cabinets, for example. Then, think about the striking visuals of dark cabinets against neutral colored tile floors. The aesthetics are simply delicious.
3. Kitchen Stone Flooring Winter Park
Some of the most practical benefits of stone flooring for the kitchen is that they're cool to the touch. In Florida, in particular, stone flooring is ideal when the weather heats up.
These flooring types are also hypoallergenic and resistant to dust.
If you're stuck between a rock and a hard place, because you have no idea what kitchen stone flooring to choose, Ability Wood Flooring can help.
We bring many years of experience to the table and suggest the best flooring materials for this area of your home.
Start Your Day Off on the Right Foot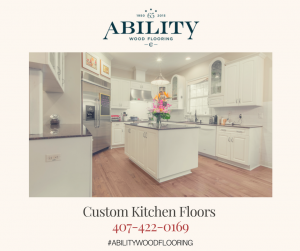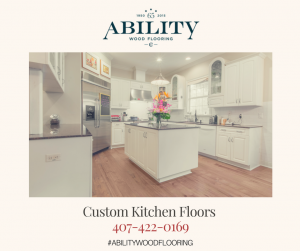 As a home cook, you deserve the gourmet-style kitchen you've always dreamed of.
Set up your kitchen floors in a way that's right for your family and the busy days ahead.
Ability Wood Flooring helps with flooring selections, custom designs, and even the installation.
We've been in business for more than a half century and are in the business of bringing smiles to homeowners in Winter Park, Florida, and the surrounding regions.
To order custom floors in Winter Park, call us at 407-422-0169.