Drift Over to Ability Wood Flooring for beautiful, rich, and solid hardwood flooring.
We are proud to offer a wide selection of hardwood floor coverings, including engineered varieties for placing in any area or level of your building. At our core, we offer more than 70 years of knowledge and experience. Ultimately, we aim to make your home life more comfortable and sweet with quality flooring materials.
Get Perfectly Imperfect Hardwood Flooring
Quality and Custom Workmanship
Ability Wood Flooring provides custom flooring services. With us, you can build the home of your dreams simply with:

Intriguing Color Combinations of Hardwood Flooring

Wood Floors That Contrasts Beautifully with Natural and Ambient Lighting

Custom Planks – Available with Skilled Sawing Techniques

Natural and Playful Dots in Solid Hardwoods
Find Hardwood Flooring That's Just Right for You
Ideas to Try:
If you're looking for inspiring collections of hardwood flooring, check out our online gallery. You'll see our past projects for:
Antique Hardwood Flooring

Distressed Engineered Hardwood

Hand Scraped Hardwood Flooring

Old World European Hardwood

Minimalist and Modern Hues
Get a Priceless Design
The Main Benefits of Installing Hardwood Flooring in Altamonte Springs, FL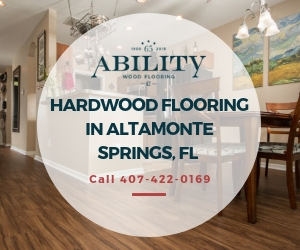 Hardwood flooring provides warmth, beauty, and timeless elegance in any style of home, be it a condo, townhome, single-family home, or high-rise business. In addition, these floor coverings are:
Easy to Clean –

Regular sweeping or vacuuming, coupled with periodic waxing or shining, keep these floors in tip-top shape.
Allergy Friendly –

If you have asthma, sinusitis, or allergies, then the flooring you choose will have a big impact on your quality of life. The most highly recommended flooring types for allergy sufferers is hardwood flooring. Unlike carpets or tile grouts, hardwood flooring does not trap dust and mites. Plus, it wipes clean with microfiber cloths or mops. Ultimately, hardwood flooring improves the indoor air quality of your home.   
Simple to Restore –

Over time, homeowners should expect that hardwood flooring will succumb to wear and tear. Fortunately, simple and cost-effective refinishing services are available at Ability Wood Flooring.
When you order hardwood flooring for delivery and/or installation, ask us about the best products for prolonging the life of your floors.
In High Demand –

If you want to improve the resale value of your property, one of the most fail-safe ways to accomplish this is to install hardwood floors. Because these floor types offer timeless appeal, they are popular with home buyers from all walks of life.
Call (407) 422-0169
Build a Cool and Calm Oasis
Order Sleek Hardwood Flooring in Altamonte Springs, FL
Place an order for custom hardwood flooring. To get a glimpse of what we have to offer, take a virtual tour of our showroom.
Call (407) 422-0169