Hardwood flooring is undeniably one of the most stunning floor types on the market.
Not only are these floors durable, hypoallergenic, and luxurious, they add warmth, character, and charm to any space at home. Moreover, hardwood flooring Doctor Phillips Florida is easy to care for and ideal for high-traffic areas, such as living rooms, hallways, and offices.
With modern improvements to this floor type, you can transform your whole home, including kitchens and bathrooms, into a warm and inviting abode.
Get a Light and Airy Feel with Hardwood Flooring
Paying Attention to Moisture and Humidity
If you want low-maintenance hardwood flooring Doctor Phillips, Florida, consider engineered varieties, which are built to withstand heat and humidity.
Engineered hardwood flooring replicates the same warmth and coziness of solid hardwood. As the name suggests, however, it's engineered to solve many issues with solid hardwood flooring.
Why Engineered Hardwood Flooring is a Stable Choice
Engineered hardwood flooring is manufactured with several thin layers of hardwood that are compressed under a heat press and topped off with an assortment of wood layers.
This intentional design is meant to prevent buckling, warping, and expansion or contractions during temperature changes.
Find an Eclectic Mix of Modern to Classic Hardwood Flooring Doctor Phillips, Florida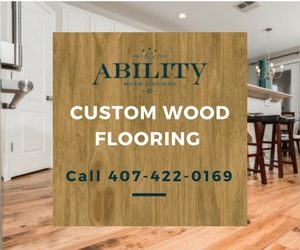 At Ability Wood Flooring, we offer a huge lineup of engineered and solid hardwood flooring, including a mix of:
Colors:

We Stock Hardwood Floors Made from All Types of Wood Species

Patterns, Textures, and Grains:

Get Rustic or Distressed Hardwood Flooring

Cuts:

From Wide to Long and Narrow Planks, There's Something for Everyone  
Order hardwood flooring reminiscent of colonial times, for instance, or opt for a modern and minimalistic hybrid of engineered hardwood flooring. Match Any Room Decor!
Installation Help for Hardwood Flooring Doctor Phillips, Florida
Need help installing your hardwood flooring? Ability Wood Flooring offers professional installation services in Doctor Phillips, Florida.
Our flooring techs can install this floor type in any layout of choice, including herringbone, parquet, diamond, or other classic styles. Get an estimate by calling or visiting our showroom today.
Find a Pro Wood Floor Installer
Guide for Shopping for Hardwood Flooring Doctor Phillips, Florida
To help you make a confident purchase, our team of knowledgeable and friendly associates are ready to answer any questions you may have.
We can help you choose a suitable floor covering based on room, budget, style, and other variables. In the end, our goal is to your 100% satisfaction.
Tackle Big Reno Projects with Ease
Bespoke Hardwood Flooring Doctor Phillips, Florida
Did you know that Ability Wood Flooring offers in-house customization services for all floor types?
Now you can order bespoke cuts, patterns, textures, and top layers of solid or engineered hardwood flooring.
Ask and We Deliver!
For the Love of Wood: Shop at Ability Wood Flooring
Upgrade your flooring with a timeless classic: hardwood flooring.
To get a quote from Ability Wood Flooring
Call 407-422-0169