Order strip, plank, or parquet hardwood flooring from Ability Wood Flooring.
From light to dark colored hardwood flooring featuring a dazzling display of nature-made grains and patterns, we stock everything you're looking for.
So Many Selections
Get two-toned kitchen hardwood flooring, for example, to elevate a rustic feel, or whitewashed engineered hardwood flooring to contrast with darker cabinetry.
DIY Flooring
Ability Wood Flooring offers something for everyone. We give you the freedom to flex your home design skills.
Professional Hardwood Flooring Installations
Alternatively, if you're struggling in this department, we have an in-house designer and a team of well-trained flooring technicians available to complete projects on your behalf.
Top Benefits of Hardwood Flooring
It takes no time from setting your eyes on hardwood floors to understand what makes these coverings so special. Hardwood flooring Lake Nona provides:
Healthier Indoors
Not only does hardwood flooring provide an airier feel in any room, you additionally benefit from healthier indoor air.
Stunning Aesthetics
Hardwood floor coverings, including engineered hardwoods, offer timeless appeal. They make your home feel warmer and more inviting, especially when installed professionally.
Our hardwood flooring Lake Nona contractors are happy to discuss options available, including customized engineered hardwood flooring.  
Low Maintenance
Despite appearances, hardwood flooring Lake Nona is a low-maintenance floor covering solution.
Hardwood flooring is hands-down one of the simplest ways to maintain a clean home at all times.
When the inevitable dust and other trappings end up on the surface, hardwood flooring can be wiped clean with a damp microfiber mop or cloth. Swiffer dry and wet mops also work great for quick cleanups.
Versatile
Hardwood flooring Lake Nona matches any interior design.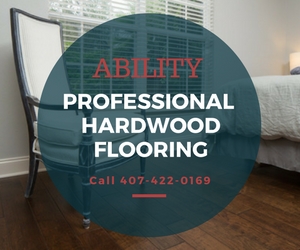 Come to Ability Wood Flooring and find a match that pairs perfectly with your current or soon-to-be new setup.
Take grey hardwoods, for instance, which couple well with stainless steel. Or, medium dark hues that are simply stunning against a fireplace. The point is: you can let your imagination run wild in terms of the style combinations that are possible.
Engineered Hardwood Flooring Lake Nona
Find warm and inviting hardwood flooring at Ability Wood Flooring that are guaranteed to remain beautiful and functional for years to come. We offer solid and authentic hardwood floors as well as engineered hardwood flooring, which are recommended for the kitchen, bathroom, or basement areas.
Engineered hardwood flooring does not crack, bubble, or peel under the pressure of heat or humidity – as is sometimes the case with solid hardwood flooring.
Need Some Advice? That's what we're here for!
Not only do we supply and fit floor coverings, we also inform our customers about the pros and cons of each flooring type based on several variables, including the room, temperature, family size, and factors that influence performance.
Come to Ability Wood Flooring today – and walk away as a confident shopper. To learn more,