For flooring that is warm as it is rustic, turn to hardwoods.
Since our inception as a family-owned-and-operated business more than 70 years ago, we've had a love affair with hardwood floors that is still burning strong today.
Continue reading to find out why we love hardwood floors.
Top 5 Reasons to Buy Hardwood Floors:
It's Hypoallergenic – Since hardwood floors do not have fibers that trap dust, these floor types promote healthier indoor air.

Get it for the Home or Office
It's a Great Investment Piece – Study after study confirms that solid or engineered hardwood floors provide substantial ROIs during real estate transactions.
Buy and Sell with Confidence
It's Luxurious – There is an understated elegance that oozes from hardwood floors. Whether you install these in your kitchen, bathroom, living room, or the whole home, hardwood floors are sure to be head turners.
Turn Heads with Engineered Hardwood Floors
It's Low-Maintenance – Despite appearances, hardwood floors are easy to clean and maintain compared to other hybrids of luxury flooring.
Shop for Practical Flooring
It's Durable – Last but not least, these floors are designed by nature and have been proven to last.
Make a Wise Investment
Soak up the beauty of a sophisticated space, that wouldn't be possible without a rich hardwood floor covering.
We Like Our Hardwood Like Our Coffee – Strong!
Get solid hardwood flooring that is proven to withstand everyday use. Whether you are a single homeowner or a nest full of pets, children, and parakeets, we'll recommend the best hardwood flooring for your lifestyle and needs.
You Had Us at Humidity If humidity is a big concern for you when shopping for hardwood floors, Ability Wood Flooring stocks a choice pick that goes where traditional solid hardwood flooring can't: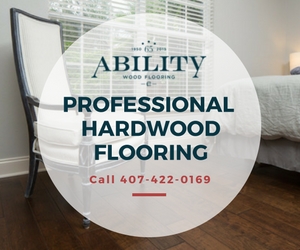 Engineered hardwood flooring is manufactured to solve those pesky issues with solid hardwood, such as the inability to hold up its shape with high levels of heat or humidity.
Rather than worrying about shape changes with fluctuating temperatures, homeowners needn't give engineered flooring the slightest thought.
Bonus Tip: Add a touch of whimsy with artsy lighting over your new hardwood.
Hardwood flooring, with its true timelessness, provides effortless ways to make cool updates throughout the ages.
Order Fresh Radiance and Minimal Maintenance
For engineered and solid hardwood flooring in every color, shape, and size – you name it, we have it! For the 65th year in a row, we've celebrated a commitment to quality, service, and prices.
Ability Wood Flooring is a family-owned-and-operated company that aims to treat your family like our own.
We built our business with the mindset that every customer has options – not just off-the-rack products. Therefore, we added customization services to the menu. We bring you on-demand custom hardwood flooring, including engineered flooring in any grain, hue, or texture.
To speak one-on-one with a hardwood flooring specialist at Ability Wood Flooring,
Call Us Today At (407) 422-0169