To design exuberant interiors, one important part of the equation is choosing the right flooring surface. 
Hardwood flooring is a timeless floor covering due to its:
Sustainability –  Many of the wood flooring products we carry at Ability Wood Flooring are harvested using sustainable forestry techniques. Add this to the fact that hardwood flooring can last a lifetime – and this floor covering becomes a must-have for homeowners in Maitland who have an affinity to green living – and bringing the outdoors in.
Hypoallergenic Nature

– One of the biggest draws of hardwood flooring is its hypoallergenic properties.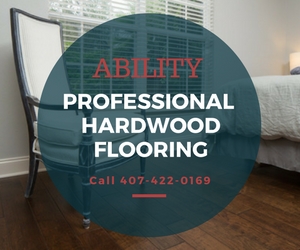 Unlike other flooring materials that easily trap dust between fibers or grout lines, Hardwood Flooring Maitland promotes better air quality indoors.
To top it off, the coatings are generally water-based. If your concerned about chemical emissions or entrapments of pet, dust, and dander, hardwood flooring is one of the best hypoallergic floor coverings to buy in Maitland.
Wide-Ranging Designs

– Utilize darker hardwoods for a heartier look or go light to match your existing furniture and cabinetry.
With hardwood flooring, there's no need to search high and low for a suitable color or texture.
Hardwood flooring is available in a plethora of shades and grains, making the selection process simple for discerning shoppers.  
Engineered Hardwood Flooring
If you're worried that hardwood flooring will buckle under the pressure of heat and moisture, a cool and more stable alternative is engineered hardwood flooring.
Using advanced engineering techniques, this practical alternative to solid wood is cladded with several thin layers of wood – compressed together to endure weather extremes. The top finish is produced to look like solid hardwood.
Busy households with pets and children often choose engineered hardwood because it's:
Strong and Durable

– Beneath the surface lies engineering marvels for tackling issues like heat and moisture.
Easy Installation

– Cut floor installation times in half when you select engineered hardwood, which can be pinned down to the existing surface using glues or staples. Some models can even be clicked in place.  
Visually Appealing

– With engineered hardwoods, there is no give and take involved. Keep your penchant for hardwood without giving up the security of stability.
Come rain or shine, engineered hardwood holds up well in the face of fluctuating climates.
Hardworking and Inviting Hardwood Flooring Maitland
Run, don't walk to Ability Wood Flooring, where there's something in store for everyone.
From traditionalists to contemporary stylists, minimalists to over-the-top designers, our hardwood flooring Maitland boutique is well-equipped with products and expertise to drive your ideas home.
Hit the Ground Running – for Your Next Flooring Project
Serving homeowners and businesses in Maitland, Ability Wood Flooring is a one-stop source for exquisite hardwood flooring.
Find a trend that clicks with you by heading to our flooring boutique in Orlando Florida.
To speak with a local flooring expert, contact Ability Wood Flooring at (407) 422-0169.