Ability Wood Flooring has been around long enough to know that even the most durable flooring products succumb to wear and tear. The projected lifespan for hardwood floors, for example, ranges from 10-50 years. After that it may be time to Restore Wood Flooring in Bay Hill
How to Get More Life Out of Hardwood Flooring
The life expectancy of hardwood flooring is dependent on a number of factors, including the finish, the installation technique, and the care it receives. Even with best practices, however, these flooring types eventually give in to everyday foot traffic. At Ability Wood Flooring, we like to joke that the floors are the hardest working areas in any building.
Remove Imperfections with Floor Restoration in Bay Hill
Whether your hardwoods have been around for decades or almost a century, Ability Wood Flooring specializes in removing imperfections such as dents, scratches, and more.
We handle that too.
Our flooring technicians will assess the damage and provide honest feedback on the best course of action. In many cases, we restore wood floors in Bay Hill damaged by water leaks using proven techniques.
If parts of the floor are too far gone to be restored, the next option is to remove these damaged portions and replace them with matching floors.
It's All About the Details – Restore Wood Flooring in Bay Hill Process
Ability Wood Flooring features a detailed wood floor restoration process. It includes:
Prepping – The unsightly blemishes on the hardwood are first stripped away using state-of-the-art sanding equipment. Multiple passes are done using various sized grits to accomplish a smooth and level finish.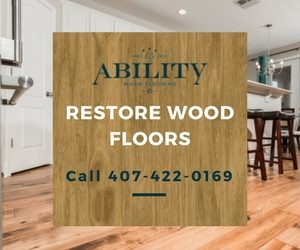 Dusting While Prepping

– Ability Wood Flooring offers one key advantage over other floor restoration services in Bay Hill. We use a dust evacuation system during the sanding process, which vacuums dust and toxic airborne fumes. Take advantage of reduced allergens and better air quality in the home after service.

Buffing

– Following the sanding process, a commercial buffer is used to smoothen the surface.
Cleanup

– We run a robust vacuum over the surface multiple times to catch any leftovers from the sanding and buffing steps.
Staining

– Leave the natural patina of the wood as-is or select a stain that complements your current furniture and décor. Ability Wood Flooring offers multiple options to choose from, including add-ons like texturizing services to shake up the look. Think hand-scraped hardwood or an elegant Old World European design.
Need examples? Check out our gallery or come in store.
Finishing – To top it all off, three coats of finish are applied, one day at a time to extend the durability and shine.
Five-Star Floor Restoration in Bay Hill
Ability Wood Flooring is a certified BONA Craftsman with a five-point advantage:
Get Long-Lasting and Beautiful Finishes

Take Advantage of Area's Only Dust Evacuation System

Work with Craftsmen Who Are Licensed and Insured

Get Back to Home Life Faster

Call Us Anytime for Support