Ability Wood Flooring is your source for premium stone and tile Bay Hill flooring. We deliver a range of services to complement the floor coverings we offer. When you order from our flooring boutique in Orlando, for example, you can also opt for delivery and installation too.
Tile Bay Hill Flooring
Tile flooring is a classic choice for Bay Hill, FL homeowners. The flooring type is predominantly made of ceramic and porcelain that have been used for centuries in building practices.
Tile flooring is moreover hypoallergenic, making it a great choice for allergy sufferers. It is also economical and easy to clean. Apply it in the kitchen, bathroom, or living room. It's a versatile product that we highly recommend.
Ability Wood Flooring has a number of tile styles to fit your preferences. Choose from:
→ Ceramic Tile Bay Hill

→ Glazed Tile Bay Hill

→ Mosaic Tile Bay Hill

→ Porcelain Tile Bay Hill

→ Stone Tile Bay Hill

→ Terra Cotta Tile Bay Hill
Any way you slice it, Ability Wood Flooring is the number one floor covering service in Orlando, Florida and the surrounding areas of Bay Hill, Spring Hill, Tampa, and other nearby cities.
Stone Bay Hill Flooring
For a timeless look and a floor covering that naturally withstands even the harshest of climates and weather extremes, go with stone flooring.
Not all are created equally, though, as each type of stone flooring, features a different grade scale.
A flooring expert at Ability Wood Flooring is always available to discuss the pros and cons of each. Tell us if you want our insight and we'll provide a few tips.
Stone Bay Hill Flooring Types
View our gallery for real-world applications of stone flooring that include but aren't limited to: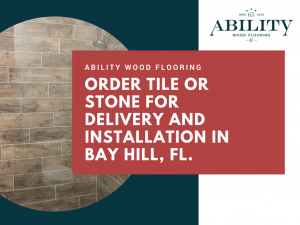 → Limestone

→ Marble Floor

→ Mosaic

→ Nadeau

→ Slate

→ Travertine
We have a full lineup of stone flooring products available that are sure to impress.
Flooring – A Natural Calling for Us
At Ability Wood Flooring, you'll never find a pushy salesperson on our showroom floors. We follow your lead and stand behind our more than 60 years in business delivering exceptional flooring services and products to our neighbors in Bay Hill.
Paving the Way for the Flooring Industry
One of our most prized services is our ability to transform regular tiles into wood look-alikes. With these products, customers enjoy:
The Stability of Tile for Years to Come –

While getting the same exotic appearance of hardwoods.

The Affordability of Tile Without Sacrificing Style –

Get a floor covering that simulates the look of real hardwood without breaking your budget.
The custom tile lookalikes can be designed in virtually any wood species of choice. Order today and we'll meet your expectations.
Samples are furthermore available in our boutique, where you can stop by and feel a tangible end product to determine if it's right for your floors.
To set up a consultation with our flooring experts at Ability Wood Flooring, Call 407-422-0169