From solid hardwood flooring to engineered hardwood, each presenting unique benefits of their own, we have a wood floor styles for everything you have in mind for Hardwood Flooring Bay Hill.
Since 1950, Ability Wood Flooring has proudly supplied one of the most in-demand flooring types to locals in the region. Hardwood flooring has truly stood the test of time, in terms of its durability and timeless looks. For the most part, this floor covering is always on trend.
Specialists in the housing market, including real estate developers and Realtors, often recommend this pqroduct when completing home repairs, because it generally increases the value of the property. House hunters actively seek hardwood flooring in Bay Hill homes because:
→ It's Exotic – Nothing provides a soothing and exotic aura quite like hardwood flooring. It draws the outdoors in while featuring a cultured and sophisticated look. In other words, hardwood flooring offers the best of both worlds – nature and manmade comfort.
→ It's Durable – Hardwood flooring holds up to heavy traffic from pets and children. It's built to withstand the rigors of everyday life. Though tough, it should be expected that maintenance is required in intervals of 10-20 years, depending on the state. In these cases, Ability Wood Flooring offers professional wood refinishing services in Bay Hill. Older hardwood floors can be transformed to a like-new state – without all the blemishes accumulated over the years.
→ It's Hypoallergenic – Perfect for individuals who are hypersensitive to allergens, wood flooring does not trap dust and other particles easily, as is the case with carpet fibers, for instance. It's one of the top reasons it's on most house hunters' must-have list.
Options for Hardwood Flooring Bay Hill
Choose wood flooring based on species, grain, and color. Our flooring experts can help you find the right fit based on your style and needs.
Engineered Hardwood Flooring Bay Hill
If solid hardwood flooring is not within your budget at this time, a more economical but nonetheless comparable option is engineered hardwood flooring. This floor covering boasts a number of benefits, including: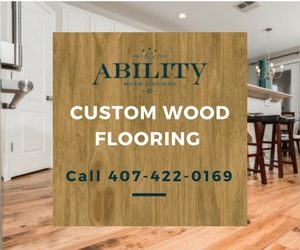 → Stability – Unlike natural hardwood flooring, it isn't susceptible to expanding or shrinking based on climate conditions.
→ Easy Installation – Most engineered hardwood flooring are deliberately manufactured with easy fitting features.
→ Easy Fixes – If a section of engineered hardwood flooring were to become damaged, this wouldn't necessarily require extensive sanding and refinishing services. Planks can be removed easily and replaced with new ones – similar to rooftop shingles.
More on Engineered Hardwood Flooring
Engineered hardwood flooring is created with multiple thin planks of wood stacked on top of each other. On the top layers, a finish of choice is sealed into place in order to replicate the look of real natural and solid hardwood flooring.
You can find engineered hardwood flooring in virtually any style of natural hardwoods here at Ability Wood Flooring. We can also customize the look to meet your style and budget preferences.
Shop for Top-Rated Hardwood Flooring Bay Hill
 When you're ready to build your custom home or want to renovate an existing property, head to Ability Wood Flooring for top-of-the-line hardwood and engineered wood flooring in Bay Hill. To consult with us, call 407-422-0169.