When you shopped for flooring, did you visit many flooring stores? When you walked into stores, did you spend a couple hours looking at many options then walked out with more questions than answers? That could be because you were in a "store" rather than a "Boutique."
By its very definition, a boutique is a small store that sells stylish, unique niche products and services and are experts in their products and services.  A store, on the other hand, is a warehouse-feel that just simply SELLS! Usually a limited variety of products are offered at low price points with a disregard to quality.
So when it comes to flooring, if you are one who wants quality over the lowest price, then shopping at a Flooring Boutique would be wiser than spending time in a Flooring Store.
Other than the size, the main difference between a Flooring Boutique and a Flooring Store is that the stores often offers limited selection of products and services. They focus on low prices over quality. The sales reps may lack knowledge about flooring and the installation and spend little time explaining the project details. The focus of their business is not in customer service but meeting their sales quota each month. When working in your home, the focus is more on getting the job completed to move on to the next one. They may not pay attention to detail, rush through the job, and not be respectful to your property.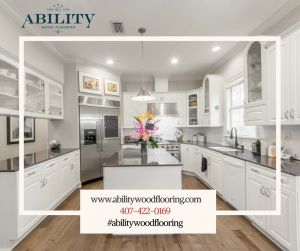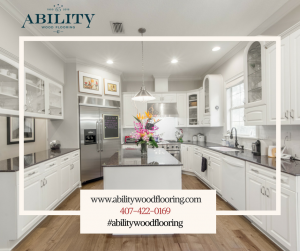 Ability Wood Flooring is a Flooring Boutique. We offer quality flooring to fit your lifestyle and take the time to educate and explain what quality looks like. From small stone and tile bathroom remodels, to large custom hardwood flooring projects. Ability Wood Flooring's skilled craftsmen can install hardwood, stone, tile, carpet, vinyl, and many more options in the Orlando and Central Florida area. From the very beginning of your flooring project process, we start by taking the time to educate which creates realistic expectations of how the floor will perform. Then through our easy and timeless floor covering selection process, we narrow down a floor that you will love now and for many decades. And by the way, quality is affordable because remember, the bitter taste of poor quality lingers long after the sweet taste of low price is long forgotten!!!
Please visit our Website to learn more and let's set up a time to talk about your flooring project!!!